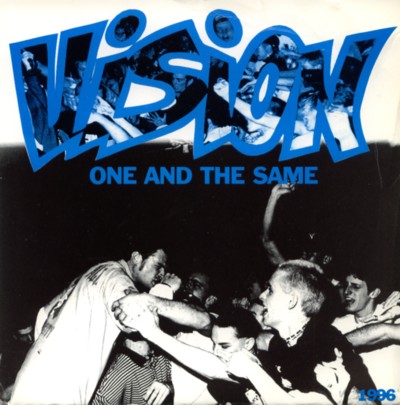 Dans la catégorie youth crew mature, ce Ep de reformation de
Vison
a été pour moi une putain de torgnole entre les esgourdes! Quand je parle de reformation, il faut quand même préciser que les mecs se défendent de n'avoir jamais splitté (ou le contraire plutôt... enfin je sais plus...), il y a de grandes chances même que ça soit vrai. Depuis, j'ai appris qu'ils avaient sorti
un 2eme album
pendant cette période entre
In the blink of an eye
et One and the same. Sept ans et un seul album, et encore personne n'en avait vu la couleur (même pas les mecs de Vision), il y avait de quoi penser que le groupe n'existait plus non?
On s'en fout, on peut penser ce qu'on veut, dire par exemple le groupe était en stand-by ou occupé à autre chose là-bas dans le New jersey, ou alors qu'ils préparaient un retour magistral.... Si c'est ça, je peux te dire qu'ils ont bien réussi leur coup les enfoirés! En tous cas moi ça m'a plu, cette nouvelle version de Vision un peu plus punk avec la basse bien en avant. C'est dommage que par la suite le bassiste ne soit pas resté, ça apportait vraiment une touche originale au groupe mais je crois pas que c'était ce qu'ils recherchaient les mecs. Après je veux pas non plus être médisant, mais je pense que la signature sur Epitaph ça a été un tournant dans la carrière du groupe. De là à dire que ça a marché?
Je les ai vu un paquet de fois en concert les Vision, dont une fois au Bistroy à Lyon en pleine période de vendanges. Je voulais être devant, je les adulais à cette époque, ça devait être à la sortie de ce Ep ou de l'album The kids still have a lot to say. Je me rappelle d'un petit mec qui a voulu jouer des coudes pour passer devant. Je suis du genre bonne pâte en général, si quelqu'un veut passer devant surtout s'il est plus petit que moi, il y a pas de soucis, je le laisse faire. Mais là, c'était hors de question! Je lui ai posé délicatement 80kg sur le coin des arpions et je peux te dire qu'il a pas moufté le loupiot. Il a mis les bouts fissa même! Et j'ai pu assister au concert de Vision à 2 mètres d'un des meilleurs batteurs au monde. Mon dieu qu'est ce qu'il était magnifique! D'entrée, il était déjà torse nu, la nuque longue au vent et le clope aux lèvres. Ils ont attaqué le concert pied au plancher et il a joué tout le premier morceau avec sa malbich au coin du bec. Pas un poil de jeu jeu le mec! Tu vois c'est à ce genre de détail que je jauge la qualité d'un batteur. Et là, je peux te dire que j'ai pas été déçu! Le lendemain, je devais être moins fier dans les rangs de vigne, mais c'est une autre histoire! Hey, ça me fait penser que j'en ai encore 2 concerts de Vision à vous raconter!
A part ça, ce Ep est sorti en Cd. Dessus il y a en bonus le Ep
Undiscovered
, une reprise de Stiff little finger (preuve de très bon gout!), une des Smiths, du live et de la demo.
VISION One and the same Ep 96
(4 mp3 en 320kbps + pochette recto/verso + insert = 28,5MB)