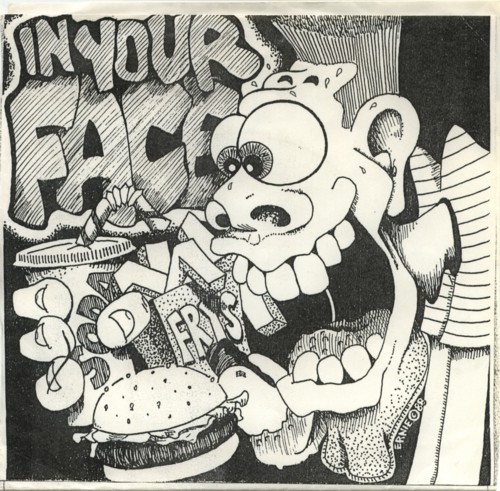 On continue avec un groupe de la cote est qui, s'il a l'air de partager avec A.T.W. le gout des hommes bien musclés, n'en a en fait, que l'apparence. C'est vrai que le nom laisse rêveur... Mais heureusement, il y a la pochette. Et la zik! Du NYHC qui se prend pas au sérieux sans tomber dans le cliché fun punk à la noix, ça fait du bien!
A propos de la pochette, elle a été déssiné par Ernie, qui fut batteur de
Token entry
et qui est batteur/guitariste (balaise) dans IYF. Il s'est contenté ensuite d'être guitariste dans Black train jack et Grey area. Les autres membres, je ne sais pas dans quoi ils ont pu jouer mais à mon avis, ils ne venaient pas de nul part.
Un cd disco a été édité dans les 90's par Lost and found. Sur ce cd ou retrouve naturellement le ep The Grub mais aussi le ep Henpecked qui n'est jamais sorti (je ne résiste pas au plaisir de vous montrer la pochette). On y trouve également le titre de la compile
"Seeing with new eyes"
et du live.
En cherchant, je me suis rendu compte qu'un autre blog
Sound and fury
avait déja posté ce disque avec des démos. Fan de NYHC, tu devrais pouvoir y trouver ton bonheur.
Pareil que pour ATW, avec un nom à la con (bien que je le trouve génial), pas moyen de chopper plus d'infos.
IN YOUR FACE ...The grub Ep 89