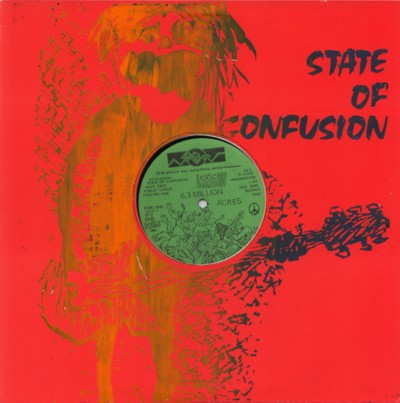 Vous avez remarquez que pendant le mois d'avril, tous les disques dont j'ai parlé sur
PNMT
sont, soit américains, soit français. Et le mois de mai prend la même direction.
Bin
oui, pourquoi se faire chier avec des groupes qui viennent de pays dont on a rien à foutre.
Jolicoeur
a décidé de ne parler que des
maîtres
en tout, j'ai nommé bien sûr les américains et de leurs laquais! Bon, peut on vraiment parler de laquais des américains à propos des français? Les allemands auraient plus de légitimité pour ce titre. Quant aux français, à part jalouser les allemands, on peut pas prétendre à grand chose. Par rapport au punk
hardcore
, on ferait plutôt figure de pays du tiers monde. Mais on y peut pas grand chose, ou du moins on y peut plus grand chose. Le combat a eu lieu il y a prêt de 30 ans. En
france
, on en était encore à digérer Bill
Haley
, ensuite la déferlante alternative est venue anéantir toutes vraies possibilités d'alternative. Le combat était terminé, les troupes étaient démantelées et il n'y avait plus aucun moyen de rattraper le temps perdu. Mais j'ai l'impression de radoter. De quoi me plains je? J'étais en première ligne il y a 25 ans, si rien ne s'est passé, est ce que c'est pas un peu de ma faute?
Toujours est il que maintenant qu'il y a longtemps que le champ de bataille ne fume plus, on peut facilement tirer la conclusion que la scène française partait perdante et comparer ce qui se faisait à l'époque entre la
france
et les états unis est tout simplement incomparable! Faites l'essai, écouter cet album de
State

of

confusion
et le prochain
post
par exemple qui parlera ce de qui se faisait en
france
la même année (ou celle d'après). Je crois que ça se passera de commentaire!
Bon d'accord, pour les américains, j'ai pas choisi les plus mauvais et du coté français, disons que c'est un exemple assez particulier, mais c'est parlant! Mais justement, on en parlera dans le prochain
post
.
Cet album m'a donc été réclamé par
Laurent
. Et je peux que le remercier de l'avoir fait. J'étais persuadé qu'il était déjà disponible sur
Good
bad
music
, mais c'est pas le cas. Et ailleurs sur le net, on le trouve que dans sa
version cassette
. Je sais pas si ça change grand chose, il y a sûrement un peu plus de souffle, mais des fois, ça arrange plutôt le son! Ceci est donc le premier
Lp
des
State
of
confusion. La pochette est joliment
sérigraphiée
. Le son est peut être un peu léger mais les
compos
sont toujours aussi incroyables. La guitare a quelques fois une petite influence métal, la basse est bien en avant, le batteur tape comme une brute toujours à la limite de ses possibilités et le chant est bien mélodique (pas comme
NoFX
, parce que faut pas croire, c'est pas eux qui ont inventé le
hardcore
mélodique, ni même le
hardcore
commercial. Quand je parle de chant mélodique, je parle de chant avec une mélodie et une bonne voix de punk). Par rapport à la
première

démo
, il y a des morceaux en commun et des inédits. Pour moi cet album est un putain de classique! Pour le reste du monde, enfin je veux dire pour les américains, il aurait fallu pour que cet album devienne un classique, qu'il sorte 3 ans avant. Comme quoi, même les américains peuvent avoir une guerre de retard!
STATE

OF

CONFUSION 6,3 million acres

Lp

86
(20
mp
3 en 320
kbps
+ pochette recto/verso +
insert
recto/verso = 76,77
MB
)