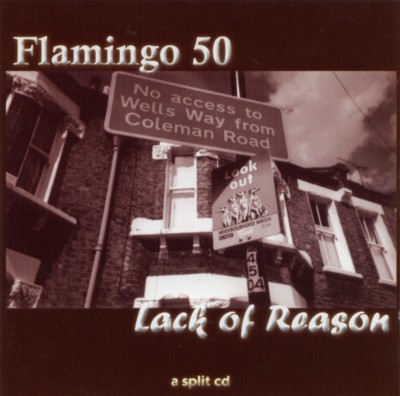 J'arrive au bout de cette série des groupes français ayant fait un disque avec des groupes étrangers et je sais pas si vous l'avez remarqué mais la série sur les groupes allemands est elle aussi également bouclée. Va falloir que je remplace tout ça. J'ai presque envie de vous demander encore votre avis. La dernière fois vous vous êtes bien prêté au jeu. Ça a un peu dérapé parce qu'ensuite je me suis retrouvé avec une série sur les groupes de Brest qu'il faut que je concocte. Mais vous m'avez donné votre avis et c'est intéressant. Je vous le demande à nouveau... Et puis non, je vous le demande pas, je suis grand, il faut que je puisse prendre mes décisions tout seul. On m'avait demandé il y a quelques temps une "série nana"?. Je suis partant, sauf que j'ai pas trop compris si l'anonyme voulait une série avec chanteuse ou une avec des groupes de filles? C'est pas grave, je vais faire les 2 et comme ce disque me permet d'enchaîner, on va dire qu'on va commencer par les groupes à chanteuses. Ce que ne sont pas tout à fait Lack of reason et Flamingo 50 puisque si les filles sont quand même majoritaires, ça reste des groupes mixtes.
Ça me fait bizarre de parler de groupes de cette façon là (groupe de filles, groupe mixte, groupe avec chanteuse), c'est limite un peu réducteur, non? Tiens ça me rappelle, à une époque avec des potes on faisait un zine et j'avais voulu interviewer un groupe de filles. Elles m'ont gentiment (pas tant que ça) répondu que si je voulais les interviewer parce que c'était un groupe exclusivement féminin, c'était complètement nase. Que si je voulais le faire, c'était parce que ce qu'elles faisaient me plaisait. C'est con, je m'étais dit que si elles avaient monté un groupe qu'avec des filles, c'était qu'il y avait bien une raison. Moi ça m'aurait intéressé qu'elles s'expriment là dessus, parce que musicalement, j'aimais pas du tout. J'ai pas fait l'interview!
J'aimais pas ce groupe dont j'ai oublié le nom, mais j'aimais beaucoup
Lack of reason
, autant sur disque, que sur scène, ou qu'humainement. Avant Lack of reason, Géraldine jouait dans
Uneven
, un vrai groupe de fille de Sainté. Mais si vous voulez connaître l'historique des membres, je vous conseille plutôt d'aller sur
Meantime
, il sait de quoi il parle.
Toujours est il que Lack of reason a fait une tournée en france et en angleterre avec
Flamingo 50
, un groupe anglais à chanteuse, c'est comme ça qu'est venu l'idée de faire un split cd. J'invente rien, c'est marqué dans le cédé.
Alors d'un coté on a un groupe estampillé emo punk (je sais, le terme emo fait peur, faites en ce que vous voulez) et de l'autre un groupe dans la tradition punk anglais des années 90/2000, ce que j'adore. Je dis ça pour les 2 groupes.
La chanteuse de Flamingo 50 chante maintenant dans
Caves
. Géraldine et Béa de Lack of reason jouent dans
Alyson B
. et le guitariste dans
Gay truckers
.
Je peux vous dire que vous avez échappé à un sacré article. Je me sentais inspiré, je balançais tout ce qui me passait par la tête, l'égalité des sexe, le parallèle qu'on fait entre racisme et sexisme, l'abolition de la prostitution... Un putain de laïus aussi long que brouillon. D'un clic, j'ai tout supprimé, c'est peut être pas plus mal...
FLAMINGO 50 / LACK OF REASON Split cd 02
(11 mp3 en 320kbps + livret 8 pages = 58,5MB)