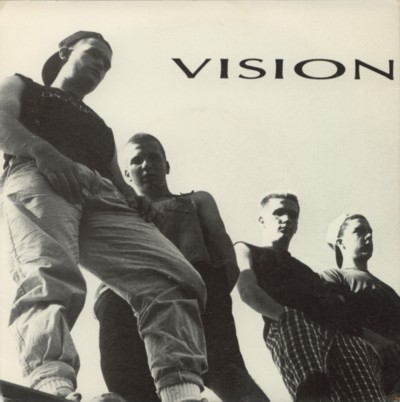 Il fallait bien que je parle de ce Ep, je vous l'avais promis depuis le 2eme album
Just short of living
, parce que rappelez vous, ce premier Ep est en bonus sur le cd et je vous avais dit que je le mettais pas car j'allais certainement en parler un jour. C'est l'occasion ou jamais, une petite série sur le youth crew d'antan, on pouvait pas mieux tomber!
On est au début de la deuxième moitié des années 80 et la scène sXe se mets en place doucement. Je dénigrais
Youth of today
dans le post de
wishful thinking
. Je vous cacherai pas que j'ai jamais été un grand fan de YOT mais on peut pas leur enlever le fait d'avoir été à la base de toute cette nouvelle scène dite youth crew ou straight edge. Ils ont quand même inventé un son, une façon de jouer qui a été reproduite de milliers de fois maintenant. Je sais pas si on peut dire que
Vision
a vraiment été influencé par YOT. Sans aucun doute, mais c'est pas aussi flagrant que d'autres groupes. Tout juste avant les mecs jouaient dans
Neurotic impulse
, un groupe hardcore looké skinhead et ça sonnait pas encore youth crew. Il leur aura fallu peu de temps pour assimiler cette nouvelle sonorité, tout juste un an entre la démo de et ce premier Ep de Vision. Je parle d'éventuels membres en commun au pluriel mais c'est possible qu'il n'ait eu que le chanteur dans les 2 groupes (d'après
I scream
, ce serait les mêmes). C'est difficile à savoir vu qu'il y'a pas les noms. Je ne sais même pas si c'est le fameux batteur à nuque longue (la moustache et la nuque longue sont très en vogue dans le new jersey) qu'on trouve ici et qui joue sur tous les autres disques de Vision (le troisième en partant de la gauche lui ressemble un peu quand même).
On est loin aussi du talent d'écriture des disques qui ont suivi, mais on va dire que pour 87, c'était quand même pas mal! Il y avait vraiment peu de groupes qui sonnaient comme ça à l'époque. A part peut être Youth of today...
VISION 1st Ep 87
(4 mp3 en 320kbps + pochette recto/verso + insert = 26MB)