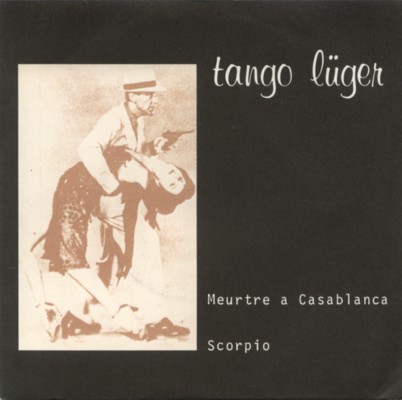 Avant le post de
Western electrique
, j'avais dans l'idée de me lancer dans une série sur la cold wave/Post punk française. Après, je me suis dit que c'était pas trop le genre de la maison et que surtout que c'était pas trop à votre gout. Et puis qu'est ce que je sais de ce qui vous plait après tout? C'est des idées préconçues, pourquoi des gros punks purs & durs tels que vous n'apprécieraient pas ce genre de groupe?
Alors je me suis dit une petite série vite fait, de toutes façons, j'ai pas de quoi en faire une super longue.... Disons qu'on en a à peu près pour 2 mois à raison de 2 disques par semaine, ça vous va?
Pour commencer, on va parler d'un groupe qui me tient particulièrement à coeur, tout d'habord parce qu'il est originaire de Beaune, bled viticole et d'extrême droite (mais ça, ça me tient pas tellement à coeur) distant de 30 km d'où j'habite maintenant, et ensuite parce que je connais l'un des protagonistes. Car l'un de ceux qui se cache derrière Tango lüger, n'est autre que
Lucas Trouble
, connu sous le surnom de Kaïser mais communément appelé Jean-luc. Dire que je le connais, c'est un peu exagéré. Disons que je l'ai déja croisé mais que si ça trouve, il se rappelle même plus de ma gueule!
En fait, j'ai déja eu l'occasion d'aller enregistrer dans son studio. Pas le
Kaïser studio
de maintenant à Chagny, non celui de génelard qui avait remplacé le studio de la gravoine. Pour nous jeunes punk rockers du bassin minier, ce nom, studio de la gravoine, ça sonnait un peu comme une sorte d'objectif inaccessible, un lieu réservé aux vrais rockers, aux vrais musiciens surtout, alors quand un pote nous a proposé d'aller enregistrer là-bas avec les Psycopompes/Psycoït, on s'est senti super flatté. On a vite déchanté une fois qu'on y est arrivé. C'était ni plus, ni moins qu'un gourbi humide et insalubre. Vous avez souvent entendu parler des chiottes du CBGB comme étant un des endroits où vous iriez même pas pisser tellement c'était crade? Et bien je peux vous dire que vous y auriez volontiers dormi si vous aviez eu le choix entre elles et le studio de la Gravoine. J'exagère un peu mais à peine... Déja pour parvenir au studio, il fallait avancer dans un tunnel de ronces et d'épines noires. Le studio en lui même, ça pouvait aller, après tout c'était un outil de travail, mais le sleeping c'était une horreur. Pour rien au monde, j'aurais voulu y dormir. Il aurait déja fallu se battre avec les rats qui avaient pris l'habitude de venir chier et dormir sur les matelas après avoir mangé toutes les gaines électriques du studio. Mais l'enregistrement s'est bien passé. Pour des sous-rockers comme nous, ça allait pas mal, on était heureux.
Du coup, je dis que je connais le Kaïser, mais ma fréquentation avec lui s'arrête là. Je dis pas que je l'ai jamais vu dans certains de ses groupes à jabots quand ils faisaient des concerts sur la région, mais je ne connais pas cet homme et c'est bien con!
Tango lüger donc... Si on en croit l'
interview de François des Snipers
, la situation en bourgogne à la fin des années 70 ne devait pas être fameuse! A beaune, j'imagine même pas comme ça devait être horrible. Mais l'air de rien il y avait quand même les Calamités et Tango lüger, et avec 2 groupes on peut déja faire une scène. Mais s'il y en a eu une, est ce qu'elle a duré? Alors là, j'en sais rien et ça m'étonnerait! Les Calamités, on sait quelle carrière elles ont eu. Quand à Tango lüger, Lucas Trouble étant ensuite allé jouer dans
Vietnam veterans
, ont ils vraiment continué? Tout ce que je peux vous dire, c'est qu'ils ont sorti un Lp l'année d'après que vous pouvez télécharger sur
Mutant sounds
.
A part ça,
le bonhomme
est toujours actif, bien actif même! A part ses activités de sondier, il continue à faire de la musique avec
The Gitanes
,
The Mediums
, et
The Mystic riders from spectral south
, et s'occupe depuis quelques années déja du label
Nova express
.
On a même pas parlé de Tango luger musicalement. C'est là que ça devient dur parce qu'où les placer? Punk? Post punk? Electro punk? New wave? Ska? Rock? A vous de voir...
TANGO LÜGER Sp 80
(2 mp3 en 320kbps + pochette recto/verso = 17MB)