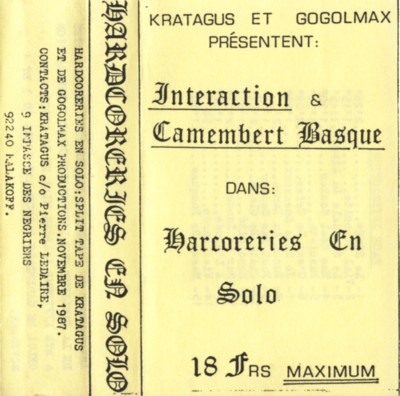 Dans je ne sais plus
quel article
, je faisais allusion aux groupes français, ou tout du moins aux français qui faute de trouver des gens avec qui jouer, se sont lancés dans l'aventure musicale tout seul comme des grands. Les exemples sont légions, et il y en a même des prestigieux comme
Mopo mogo
ou
Docteur destroy
. Mais si on se penche sur la question, on peut que constater que c'est pas vraiment un signe de bonne santé musicale. Parce que la plupart de ces projets solo n'ont pas amené à grand chose, à part pour quelques uns à des participations à des compiles cassettes (Objection, New dustbins,...) ou voir pour les plus audacieux à la réalisation d'une démo (Dan & the destroy, Kenpouhic thrasma, Trom tax from hugols, Jazz experience,...), mais bon, à part jouer dans leur chambre, ils n'ont pas fait grand chose!
C'est le cas de Camembert basque et d'Interaction. Enfin, je sais pas s'ils ont joués ailleurs que dans leur chambre mais on peut dire que leur carrière musicale se résume aux morceaux de la compile
La cassette de Jean-François
et de de cette split tape sorti sur
Gogolmax
et Kratagus. Gogolmax, on en a déjà parlé
ici
. Kratagus, je crois, je pense voir je suis sûr que ça doit être le label d'un des mecs de
Skorbut molotov
, autrement dit Pierre de Pierre & les handicapés (autre projet solo qu'on peut écouter sur Cornettos pour dégonflés), d'Interaction, Baygon rouge,... On n'est jamais mieux servi que par soi même! L'adresse du label sert aussi de contact pour Camembert basque. Rien de plus normal quand on sait que derrière CB se cache Krabox, guitariste de Skorbut molotov (mais aussi Mosquito smile, Brigades du sexe, Surcharge,...).
Premier constat, ce sont 2 jeunes hommes assez productifs et on comprends bien que c'était pas le fait de se retrouver seul qui allait les empêcher de faire la musique qu'ils avaient envie de faire, en l'occurrence du hardcore, puisque c'est bien ce que sous-entend le titre de la compile, Hardcoreries en solo! Soyons franc, on est pas dans le hardcore tel qu'il se pratiquait dans d'autres pays (rappelez vous,
State of confusion
...), on est en france ne l'oubliez pas, et jusqu'au bout on aura résister contre l'envahisseur, mais il y a de l'idée surtout dans Interaction pour qui j'ai une nette préférence. Pierre ne s'est pas cassé le cul à rajouter de la basse mais les morceaux sont plus spontanés et la voix arrache bien. En groupe avec un peu d'arrangement, ces morceaux auraient pu donner un résultat plus qu'acceptable. Mais voilà, on en en France et faute de musiciens, ces 2 Stakhanovistes ont du se satisfaire tout seul dans leur chambre (de là à les prendre pour des branleurs...) à défaut de réellement satisfaire l'auditeur! Et ensuite ils sont surement passés à autre chose.
V/A Hardcoreries en solo Tape 87
(33 mp3 en 320kbps + pochette recto/verso + insert recto/verso = 124MB)