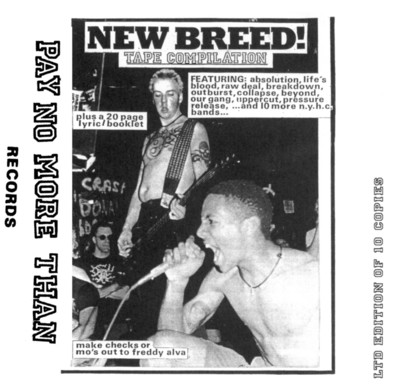 Avant de connaitre les joies du blogger, je m'étais lancé dans le piratage via le cdr. Je faisais ça un peu dans le même esprit que le blog, c'est à dire pas du tout dans un but mercantile mais plutôt dans celui de rendre certains disques rares plus accessibles à toutes et à tous.
La compile New breed faisait partie de mes pirates et croyez moi si vous voulez, j'en ai pas vendue une seule. Je l'avais mise 2, 3 fois sur ebay ainsi que d'autres "réalisations" de Pay no more than records , mais visiblement, ça n'intéressait personne! Donc comme j'en ai eu marre de payer des frais et de ne rien vendre, j'ai laissé les cdr dans un carton en attendant qu'ils se vendent tout seul.
Je n'ai pas fait mon cdr à partir de la k7 originale New breed, mais à partir du cd pirate sorti à la fin des années 90 (?) et qui a été acheté au vort'n'vis. J'aime bien l'idée de pirater des pirates et cette idée m'avait été insufflée par une compile K7 qui avait pour nom Bootleg the bootlegers et qui regroupait plusieurs 45 SXE difficilement trouvables. Le gars qui avait sorti ça est un français dont je tairais le nom.
Pour moi cette compile représente ce qu'est le NYHC en tant que musique qui m'a tant fait vibré. Il y a des groupes excellents, c'est obscur et les groupes ne sont pas forcément tous des abrutis testostéronés. Parce que c'est ça aussi qui m'a vite gonflé (au sens figuré pour ma part) dans le New york hardcore, trop de muscles et pas assez de gonzesses. Heureusement qu'il y a eu quelques groupes sur New york qui ont proposé une autre approche, Go, Bad trip, Born against, Citizens arrest,... Parce que tous les Youth defense league et Cie, non merci!
Bref, on retrouve sur cette compile quelques groupes dont j'apprécie plus la démarche comme Bad trip, d'autres comme Our gang dont certains membres joueront dans Citizens arrest et des mega stars comme
Beyond
. On peut citer en vrac aussi pour les plus connus, Absolution, Life's Blood, Breakdown, Outburst, Uppercut, Raw deal,...
Il y a quelques groupes complètement inconnus qui n'ont du rester qu'au stade de la démo comme Fit of anger, Stand proud (le nom!), Direct approach et les fantastiques A bomb a nation (ou Abombanation, et si vous cherchez un peu, vous allez voir que ce n'était pas des débutants) qu'on trouvait déja sur la compile Ep
Chop chop
. Pour ces derniers, c'est regrettable qu'ils n'aient jamais sorti autre chose que quelques titres sur des compiles. Je suis sûr qu'il doit exister au moins une
demo
qui rendrait ma fin de vie beaucoup plus heureuse.
Voila donc, une petite compile de new york qui présente le new york hardcore tel qu'on aurait toujours du le voir. Et si vous la voulez en wave, avec un bon son, une belle présentation et un livret 20 pages, vous pouvez me contacter, il m'en reste quelques unes (une dizaine).
Sinon, l'
originale
était sorti en 89 sur Urban style, petit label tenu par Chaka malik (Burn, Orange 9mn,..) et freddy Alva(lui je sais plus dans quoi il a joué mais je crois que c'est le gazier tatoué qu'on voit sur la pochette). La compile est sortie en 89 mais tous les morceaux ou presque datent de 88.
Le cd pirate a été tiré à 1000 exemplaires numérotés. La version PNMT à 10 exemplaires.
Vous avez à disposition des scans de la pochette du pirate et ceux de la version Pay no more than. J'ai encodé les morceaux en 320kbps et j'ai séparé le fichier en 2. J'en ai fait une autre version en 192kbps et pour finir, le livret est dans fichier à part.
V/A New breed Tape compilation Face A
(18 mp3 en 320kbps + pochette recto/verso = 75MB)
V/A New breed Tape compilation Face B
(17 mp3 en 320kbps = 76MB)
V/A New breed Tape compilation 89
(35 mp3 en 192kbps + pochette recto/verso = 91MB)
V/A New breed livret
(20 pages = 5,5MB)