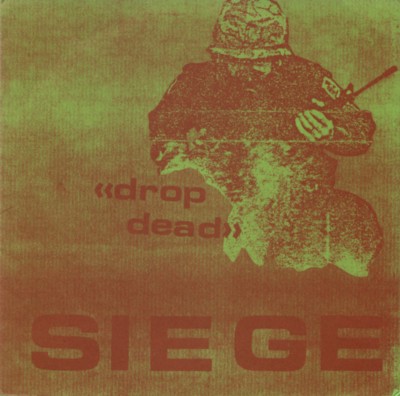 Quand je cherchais des pirates de démo, je suis tombé sur
Siege
, et je me suis dit "bin oui, naturellement,
Siege
!". Et tout de suite après "bin oui, mais Siege, tout le monde l'a déjà mis sur un bon nombre de blog...". Oui et alors, qu'est ce qu'on en a à foutre après tout? "Oui mais, sur
Zer
, il l'a mis cette semaine comme toi". Je sais mais tout était déjà prêt et l'article écrit, donc... Et ce groupe m'a suffisamment marqué, surtout avec les morceaux de la compile
Cleanse the bacteria
pour que je ne me prive pas de vous le proposer à mon tour. Tiens je me rappelle encore comment et quand je l'ai acheté...
Une fois Fred* m'avait dit sur JoliCoeur (ou peut être bien sur PNMT...) que je rentrais pas assez dans les détails, que ça pourrait être intéressant que je raconte les circonstances dans lesquels j'avais acheté le skeud en question, ce que je faisais à ce moment là, si j'avais la braguette ouverte... C'est intime et personnel, mais n'oubliez pas que JoliCoeur est un blog emo. Beurk!
Toujours est il que c'est vrai, j'ai jamais trop appliqué ce genre de règle sur PNMT (
une fois
) et je veux bien me prêter au jeu pour ce Ep de Siege. Surtout que je me rappelle vraiment les circonstances dans lesquelles je l'ai acheté. Je peux vous dire que ça m'a marqué, j'étais en cure à la Bourboule. Eh oui, ça vous en bouche un coin! C'est que j'ai eu une vie aventureuse quand j'étais jeune et j'en suis pas peu fier, surtout de ma cure à La Bourboule. J'ai une autre grande fierté, c'est aussi d'avoir fait une croisière en méditerranée, mais c'est pas le sujet aujourd'hui (en même temps, il y a pas grand chose à raconter vu que je l'ai passé dans ma cabine à dégueuler), aujourd'hui on parle de La Bourboule. J'étais donc en cure pour de l'asthme et je me faisais chier comme un rat mort. J'avais bien tenté de rencontrer des punks par là bas mais le seul mec que j'ai croisé qui parait il écoutait les Dead kennedys, était une espèce de baltringue qui sortait de taule et qui pensait qu'à une chose, me taxer de le thune pour aller se défoncer la gueule au casino. J'ai eu du mal à m'en débarrasser, surtout qu'il avait l'air violent. A partir de ce jour là, j'ai arrêté de parler aux punks. Mais encore une fois on est hors sujet. On parlait de quoi déjà? Ah oui, Siege!
A cette époque là, moi et mes potes, on commandait entre autre à Thrash et à Bunker, dont on recevait les catalogues régulièrement. Je les recevais bien quand j'étais à La bourboule mais chez moi pas dans mon petit meublé au troisième sans ascenseur que je louais le temps de la cure. Alors je téléphonais à mes potes et ils me disaient ce qu'il y avait comme nouveautés. Ce jour là, j'ai du téléphoner à Alain qui avait reçu le catalogue Bunker. Quand il m'a annoncé qu'il y avait ce pirate de Siege, j'étais fou. Il me le fallait absolument. Et même s'il se vendait à l'époque quasiment le prix d'un album (et à l'époque, un album c'était cher, l'équivalent de 2 heures de taf, 20 euros maintenant si vous préférez), j'en avais rien à foutre, je le voulais! Alain en a pris 2, un pour lui, un pour moi! Et c'est ce disque que je vous propose aujourd'hui. Un disque qui a du vécu!
Pour répondre aux autres questions de Fred*, qu'est ce je faisais à ce moment là? Je téléphonais naturellement, je devais être dans la cabine pas loin de la gare, je fumais sans doute... Je sais, c'est pas bien de fumer quand on fait une cure contre l'asthme, mais en même temps, qu'est ce que vous voulez faire à La Bourboule? Quant à ma braguette, c'est un principe chez moi, elle est toujours ouverte!
Alors, ça valait le coup non de parler de ce Ep de Siege? Hormis les conditions romanesque dans lesquels je l'ai acheté, ce Ep pirate ne manque d'intérêt. A l'époque, il n'existait aucun enregistrement de Siege à part les morceaux de la compile Bacteria. Je devais avoir cette démo en cassette mais avec un son plus ou moins pourri. C'est donc le premier disque de Siege à être sorti et d'après Flex!, le son serait bien meilleur que les pirates sortis après. Je ne sais pas ce que ça vaut par rapport à la réédition de Lost and found ou celle de Deep six?
Je vous ai quand même mis une pochette d'un pirate (celui de
Revoltation
je pense) que j'ai scanné à partir du disque d'un pote, c'est juste pour qu'en plus vous ayez les paroles. Parce que vous savez ce que c'est, on se dit Boston et tout de suite on a des a priori. On pense groupes décérébrés, nationalistes, homophobes, violents... Là, on a les paroles, comme ça c'est clair! Bon moi, je parle pas bien anglais (pas bien français aussi), donc je les ai pas lu mais vous qui êtes si pointilleux et si pathologiquement politiquement correct, ça devrait je pense vous rassurer!
SIEGE Drop dead - demo 84
(6 mp3 en 320kbps + pochette recto/verso = 30MB)